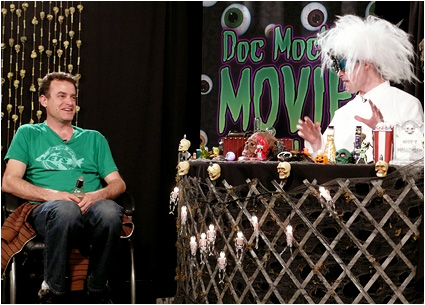 Ever wonder what it would be like to survive a crash onto a nearby planet after attempting to attack the Death Star, only to discover that it's inhabited by robots, monsters and mummies who want nothing more than to kill you? Sure you have! And that's why you need to watch our latest episode from last week! Yes indeedy, Episode 30 of Doc Mock's Movie Mausoleum is now permanently archived online for your viewing pleasure! Big thanks again to our special guest Matt Besser for joining in all of the galactic madness of episode thirty and then hanging out with everybody in the chat rooms at the end of the show!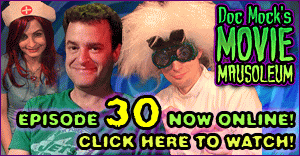 Matt Besser! - Part I:
http://www.thestream.tv/watch.php?v=2129

Matt Besser! - Part II:
http://www.thestream.tv/watch.php?v=2130

As always, you can view any other archived episodes in Doc Mock's channel on theStream. And don't forget, all of our new episodes are now available for free download on iTunes!

ENTER DOC'S VIDEO CONTEST! Everybody always sends in nice compliments about the Doc Mock's Movie Mausoleum theme song, so we decided to have you guys participate in the fun of it. Now is your chance to show us how YOU would perform the song if given the chance! All you need to do is upload a video of yourself singing and/or screaming along with the song to Youtube and then send us the link. Our lucky winner will not only receive some Doc Mock prizes, but we'll play your version of the song LIVE on an episode of the show! Click here for full details about the contest!

NEW TIME SLOT! Don't forget, we'll be returning with an all new LIVE episode in our brand new time slot Thursday, April 8th 2010 at 8pm PST / 11pm EST! So be sure to catch that episode LIVE as we kick off this new prime time slot in grand ol' style! After all, you wouldn't want to miss moments like this:

Doc Mock on March 29th, 2010 | File Under General | No Comments -