Yo ho ho, movie maniacs! I just wanted to take a second to clear up what's going on with Doc Mock's Movie Mausoleum for those of you who haven't already heard the news.

First off, the show is NOT over yet… it's in limbo. The studio where we shot it has been in turmoil for a while and that's why we haven't been able to do any new episodes recently. We had some amazing guests lined up as the show was constantly improving, so it's hard having to take this much time off from being able to shoot new episodes. We're not sure when (or if) the studio will be resuming normal operation, so rather than continuing to wait around and see what happens, we're searching for a new home for Doc Mock's Movie Mausoleum in the meantime. We really hope they can get back up and running soon, because we'd gladly go back on the air with them, but nothing's more important to us than being able to bring our awesome fans new episodes of the Movie Mausoleum on a regular basis. These constant downtimes frustrate us just as much as they frustrate you, so let the hunt begin, because the Doc needs your help to find a new home!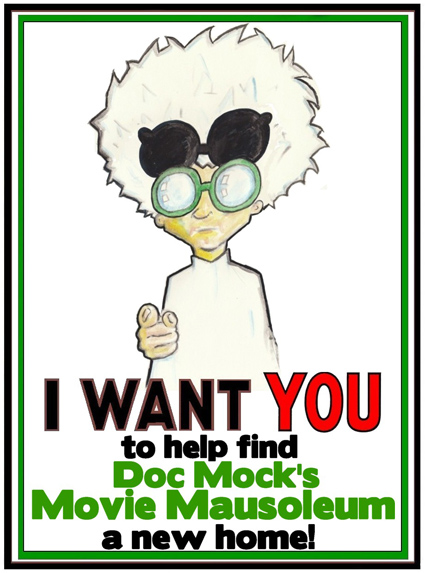 (Huge thanks to Jeff Gipson for making this poster!)
If you know of any studio operations in or around the Los Angeles area who are capable of doing a live streaming web show like ours, please have them get in touch with us. The best thing you can to do help Doc Mock's Movie Mausoleum right now is to spread the word that we're looking for a new home! You can also follow us on Facebook and Twitter for the latest news about the show and anything else we have going on.

While you wait for new episodes, you can always catch up on all 32 episodes we have archived online for your viewing pleasure! Don't worry guys, we're not done with the show by any means, so hang tight and hopefully we'll be back soon!

2 Responses to "Spread The Word! Doc Mock's Movie Mausoleum Is Looking For A New Home!"
Greaseman Says:
September 9th, 2010 at 1:44 am

The Mausoleum Rocks! Lets get the word out people.
I hope The Stream returns, but if not, the #1 show must go on!
(And please bring Ethan with you, Lickey FTW!)

Tony Says:
September 20th, 2010 at 11:32 pm

I was wondering what happened. It's linked on I-Mockery which got me into watching it. It's the new MST3K. The show needs to come back. We miss it.