Yo ho ho, my menacing militia of mutants! It's your ol' pal Doc Mock, and I wanted to let you know that I'm returning to the Upright Citizens Brigade (UCB) Theatre in Los Angeles on March 30th at 11:55pm for an all new Doc Mock's Movie Mausoleum live show! As always, I'll be sharing a movie from the past made to melt your minds into a horrifying stew. I'll also be joined by my special guests, Colton Dunn (MADtv, Pretend Time, Key and Peele) and Eric Appel (NTSF:SD:SUV, Pretend Time, Eagleheart), to commentate on the movie with me in front of our live audience! Miss Diagnosis will be hunting for Easter eggs throughout the night as well, and she may have some eggciting prizes for a handful of lucky attendees, so don't miss it! All that entertainment for only 5 bux! Who needs electroshock therapy when you can go see Doc Mock 'n friends live and in person!?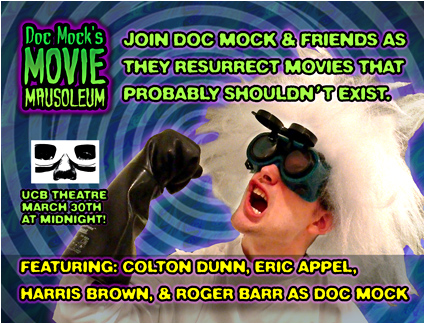 http://losangeles.ucbtheatre.com/performances/view/27044
Hope to see you all there for one hellish hop down the bunny trail!

Doc Mock on March 19th, 2013 | File Under General | 1 Comment -