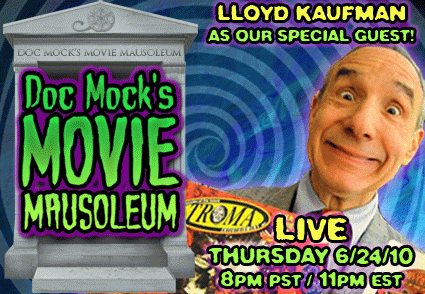 We've been excited about this one for a while and now it's finally happening! President of Troma Entertainment, Lloyd Kaufman, will be joining us as our special guest on Doc Mock's Movie Mausoleum on June 24th! The show starts LIVE THURSDAY night at 8pm PST / 11pm EST, so be sure to log in to the chat rooms early to talk with Miss Diagnosis and get ready for an amazing time with Lloyd, some lovely Tromettes, and a crazy Troma flick from yesteryear! If you had plans for Thursday night, you had better cancel them… even if it's your wedding or a loved one's funeral. Nothing takes precedence over this episode, alright?

You can watch the show and join in the chat room madness at any of the following URLs:
http://www.justin.tv/thestreamdottv
http://www.stickam.com/thestreamdottv
ENTER OUR TROMA CONTEST! Since Lloyd's gonna be on the show, we'd like you guys to show some love for all those insane independent movies he's produced with Troma over the years. We want each of you to draw a picture of Lloyd hanging out with any of your favorite Troma characters (Toxic Avenger, Sgt. Kabukiman, Poultrygeist chickens, etc.) and getting into some kind of trouble.

As always, you do NOT have to be a real artist to participate in this. It doesn't matter if you want to draw it in Photoshop, MS Paint or even with finger paints… we'll be judging these entries solely on creativity and humor, not artistic talent. We'll be showing ALL of the entries live on the air and letting Lloyd and his lovely Tromettes judge which entry is their favorite! Whoever wins will get some Troma goodies! Post links to your entries in this blog thread or email them to doc@docmock.com with the subject line "Doc Mock Troma Contest!" As always, you can enter as many times as you like, just make sure your entries are turned in by 4pm PST on Thursday, June 24th. If you turn them in later than that, we can't guarantee that they'll make it into the show in time.

3 Responses to "Lloyd Kaufman Appearing LIVE On Doc Mock! Thursday, June 24th @8pm PST / 11pm EST!"
Crow Says:
June 25th, 2010 at 1:03 pm

This episode was certainly…uhh, interesting. I had to laugh every time Lloyd called you 'Doctor Mock'

ColdFusion Says:
June 25th, 2010 at 7:05 pm

That was so amazinG! it was the best episode of doctor mock and misty I've ever seen!

lolol srsly though that was awesome.. a most triumphant way for the show to return, multiple guests :D

Doc Mock Says:
June 25th, 2010 at 8:48 pm

Thanks guys! We really had a ton of fun with that episode! So much craziness plus the unexpected appearance of even more Tromettes! Really glad we could finally have Lloyd on the show. He's one of the guests I've been wanting on the Movie Mausoleum since we first started the show. Anywho, I'll keep you all posted on whenever we'll have another episode. In the meantime, keep an eye out for the archived episode in case you missed anything!