It's Friday and that means it's time for another LIVE episode of Doc Mock's Movie Mausoleum tonight! Our special guest this week is Paul Scheer (from Human Giant, 30 Rock, Best Week Ever, Piranha 3D and more) and we have another rib-ravaging flick for you to feast your eyes upon! As always, you can watch the show and join in the live chat room fun at any of the following URLs at 10pm PST / 1am EST:

http://www.thestream.tv/live.php
http://www.justin.tv/thestreamdottv
http://www.stickam.com/thestreamdottv
Also…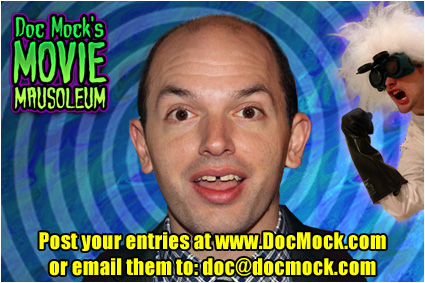 We're holding another funtastic contest this week and I'd really like all of you to participate. Why? Because, if you're a fan of Paul Scheer, you'll be excited to hear that not only will he be our guest this week on Friday, March 5th, but he will be viewing each and every one of your entries! So lemme explain the contest…

First off, you do NOT have to be a real artist to participate in this. It doesn't matter if you want to draw it in Photoshop, MS Paint or even with finger paints… we'll be judging these entries solely on creativity and humor, not artistic talent. So, to enter the contest, ll you have to do is draw Paul Scheer hanging out with the Doc Mock crew doing something fun. It could be a day at the beach, a trip to the carnival, a picnic… whatever you can come up with! Feel free to make references to roles he's played on TV and in film with your entries. Once you have your entry created, simply post it here in the official contest blog thread or you can email it to me. Make sure your entries are turned in no later than 6pm PST on Friday, March 5th. If you turn them in any later than that, I can't guarantee they'll make it onto the show. And yes, feel free to enter as many times as you like!

After you've turned in your entries, just kick back and watch the show on Friday, March 5th LIVE at 10pm PST and we'll be displaying any of the entries that were submitted and letting Paul comment on each of them! A winner will then be selected to receive some great (autographed) prizes which we'll unveil during the show! I wanna see entries from all of you guys whether you can stay up late and watch the episode or not. After all, you can always see what Paul had to say about your entries in the archived version of the show.

Alright, that's enough blabber for now, so get crackin' on those contest entries and good luck!

6 Responses to "New Show Tonight At 10pm PST! Plus, New Contest For Paul Scheer!"