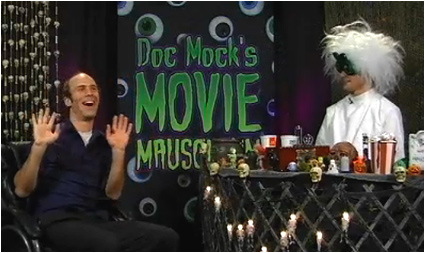 Ever wonder what it would be like to have your town terrorized by a teleporting, rapist sasquatch with giant breasts who can magically turn 3-D objects into 1-D? Sure you have! And that's why you need to watch our latest episode from last week! Yes indeedy, Episode 29 of Doc Mock's Movie Mausoleum is now permanently archived online for your viewing pleasure! Big thanks again to our special guest Nathan Barnatt for joining in all of the Bigfoot bizarreness of episode twenty-nine and then hanging out with everybody in the chat rooms at the end of the show!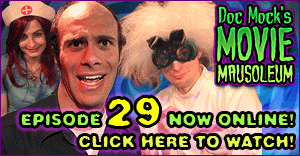 Rapesquatch! - Part I:
http://www.thestream.tv/watch.php?v=2124

Rapesquatch! - Part II:
http://www.thestream.tv/watch.php?v=2125

As always, you can view any other archived episodes in Doc Mock's channel on theStream. And don't forget, all of our new episodes are now available for free download on iTunes!

Don't forget! We're currently holding a survey about potential future changes to the day & time that the show airs. Be sure to cast your vote and share your thoughts on the matter here! Thanks in advance for sharing your feedback with us!

Last but not least, we'll be returning on Friday, March 26th 2010 at 10pm PST 11pm EST with an all new episode of Doc Mock's Movie Mausoleum, and you'll be excited to know that our guest is the one and only Matt Besser!!! He's one of the founding members of the Upright Citizens Brigade, has appeared in a ton o' comedy shows and films and more… so be sure to catch that episode LIVE! After all, you wouldn't want to miss moments like this: