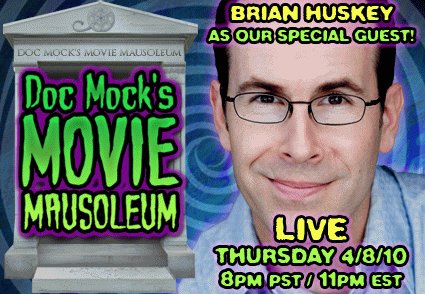 Don't forget, this Thursday night we have Brian Huskey (of Best Week Ever, Step Brothers, Superbad, Semi-Pro and more) as our special guest on Doc Mock's Movie Mausoleum! The show starts LIVE THURSDAY night at 8pm PST / 11pm EST, so be sure to log in to the chat rooms early to talk with Miss Diagnosis and get ready for another fantastic guest along with a crazy flick from yesteryear!

You can watch the show and join in the chat room madness at any of the following URLs:
http://www.justin.tv/thestreamdottv
http://www.stickam.com/thestreamdottv
ENTER DOC'S VIDEO CONTEST! Everybody always sends in nice compliments about the Doc Mock's Movie Mausoleum theme song, so we decided to have you guys participate in the fun of it. Now is your chance to show us how YOU would perform the song if given the chance! All you need to do is upload a video of yourself singing and/or screaming along with the song to Youtube and then send us the link. Our lucky winner will not only receive some Doc Mock prizes, but we'll play your version of the song LIVE on an episode of the show!
Click here for full details about the contest!

3 Responses to "Brian Huskey LIVE This Thursday Night On Doc Mock @8pm PST / 11pm EST!"
Just Ami Says:
April 9th, 2010 at 6:51 am

Hey Doc & Miss D!

Great show tonight! :D It was nice watching the show on a Thursday! Hope that time worked out for everyone else.

Doc, I've been meaning to ask you a question! Is there any way you or one of the random mutants around the lab could make some sort of…I don't know…. snazzy list of all the movie titles that have already aired on the show? Just thought it'd be helpful for future recommendation movie titles, or just if there is a new viewer who wants to see a quick list of the movies.

Theo Cervi Says:
April 9th, 2010 at 9:26 pm

Re-Post From the Email.
I sent John Gemberling an email and he said he would love to be on the show in April. How do i send him the details?

His post
Heyyyy! I'm sorry it took me so long to write, but I actually AM in LA now for the month of April. I'd love to be on the show! Let me know when you'd be doing it (if the offer still stands).

Thank you!

Love,
John

Doc Mock Says:
April 15th, 2010 at 5:22 pm

Just Ami - Glad ya enjoyed the show! In regards to your question, I'll try putting together a list sometime. I generally don't announce the movie titles in advance because I enjoy the element of surprise, so even for a new viewer who is catching up on old episodes, I think that may ruin the element of surprise heheh.


Theo Cervi - Spiffy! I replied to your email already so I'm sure you got that message.