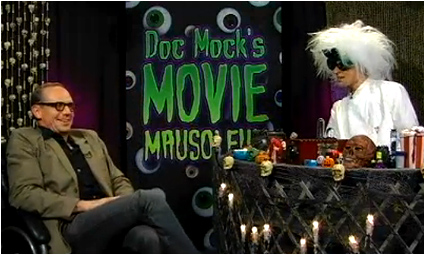 Ever wonder what it would be like to survive a nuclear holocaust as gay Batman only to be relentlessly hunted by a gang of rapists? Sure you have! And that's why you need to watch our latest episode from last week! Yes indeedy, Episode 26 of Doc Mock's Movie Mausoleum is now permanently archived online for your viewing pleasure! Big thanks again to our special guest Toby Huss for joining in all of the nuclear nonsense of episode twenty-six and then joining us in the post show! Toby is an incredibly talented performer who has appeared in Carnivale, Reno 911, The Adventures of Pete & Pete, Seinfeld, King of the Hill, World's Greatest Dad, and much more. If you have the means, you should definitely check out his "Rudy Casoni Variety Show" at the Steve Allen Theater in Los Angeles and pick up his hilarious "S'no Balls" Christmas CD online at cdbaby.com.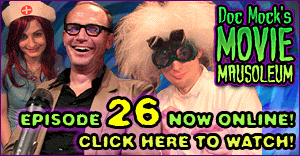 Toby Huss! - Part I:
http://www.thestream.tv/watch.php?v=2060

Toby Huss! - Part II:
http://www.thestream.tv/watch.php?v=2078

As always, you can view any other archived episodes in Doc Mock's channel on theStream. And don't forget, all of our new episodes are now available for free download on iTunes!

Don't forget! We'll be back this Friday, February 19th with an all new LIVE episode for you to watch and join in the chat room madness! After all, you wouldn't want to miss moments like this:

3 Responses to "Episode 26 With Toby Huss Now Online!"
ColdFusion Says:
February 16th, 2010 at 7:50 pm

That was an amazing experience I'll never forget..
So who's the guest this week? Or do we not always have one? Either way I am totally making this a part of my fridays from now on..

Crow T. Robot Says:
February 16th, 2010 at 9:32 pm

Oh yeah there's always a guest…but we usually don't find out who until Thursday or so.

Take a gander here for potential guests, Doc Mock seems to love UCB:
http://losangeles.ucbtheatre.com/performers/

Theo Says:
February 19th, 2010 at 9:12 pm

Will John Gemberling ever be a guest?