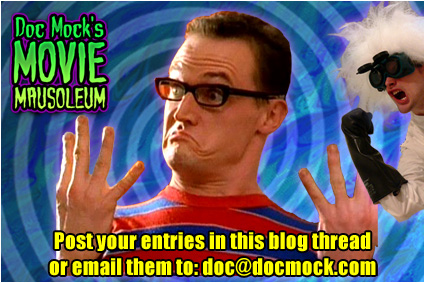 We're holding a new contest this week and I'd really like all of you to participate. Why? Because, if you're a fan of The Adventures of Pete & Pete, you'll be excited to hear that Artie, the Strongest Man in the World will be viewing each and every one of your entries! Yep, the one and only Toby Huss is going to be our guest on Doc Mock's Movie Mausoleum this Friday night! So lemme explain the contest.

First off, you do NOT have to be a real artist to participate in this. It doesn't matter if you want to draw it in Photoshop, MS Paint or even with finger paints… we'll be judging these entries solely on creativity and humor, not artistic talent. So, to enter the contest, all you need to do is draw Artie interacting with the cast of Doc Mock's Movie Mausoleum in any way you see fit. He could be saving them from danger, he could be enjoying a snack with them… whatever comes to your mind really. Once you have your entry created, simply post it here in the official contest blog thread or you can email it to me. Make sure your entries are turned in no later than 5pm PST on Friday, February 12th. If you turn them in any later than that, I can't guarantee they'll make it onto the show. Lastly, if you're a fan of any of Toby's other characters, including "The Wiz" from Seinfeld and "Stumpy" from Carnivà le, you're more than welcome to submit entries involving them as well. And yes, feel free to enter as many times as you like.

After you've turned in your entries, just kick back and watch the live show on Friday night at 10pm PST and we'll be displaying any of the entries that were submitted and letting Toby comment on each of them! A winner will then be selected to receive an autographed poster! I wanna see entries from all of you guys whether you can stay up and watch the episode or not. After all, you can always see what Toby had to say about your entries in the archived version of the show.

Alright, so you've got all week to churn out some great entries involving Artie, Doc, Miss D, Licky, Smiley and anybody else you'd like to include, so get crackin' on 'em. Good luck to all of you who enter! Pipe!

17 Responses to "New Contest For Artie, The Strongest Man In The World! Enter This Week!"