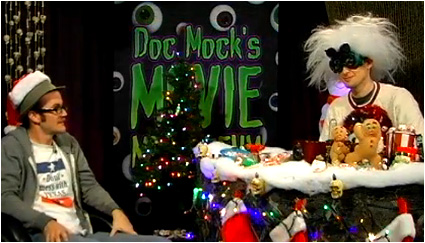 Ever wonder what it would be to take Santa Claus to Mars to teach their alien race about the spirit of Christmas while a giant robot named Torg kept Mrs. Claus company back at the North Pole? Sure you have! And that's why you need to watch our latest episode from last week! Yes indeedy, Episode 21 of Doc Mock's Movie Mausoleum is now permanently archived online for your viewing pleasure! Big thanks again to our special guest Mel Cowan for joining in all of the celestial Christmas lunacy of episode twenty-one and sticking around in the chat room with us for some dancing and other antics afterwards!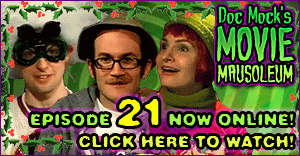 Torg Torg Torg! - Part I:
http://www.thestream.tv/watch.php?v=1945

Torg Torg Torg! - Part II:
http://www.thestream.tv/watch.php?v=1955

As always, you can view any other archived episodes in Doc Mock's channel on theStream. And don't forget, all of our new episodes are now available for free download on iTunes!

We'll be back this Friday, December 18th with our FINAL episode of 2009 for you to watch and join in the chat room madness! And don't forget, we've got a big Christmas Holiday Art Contest going on this week and all the entries will be displayed during our final episode of the season come Friday night! Hope you can all join in and submit an entry or two in time for the show! Please visit the following URL for full details on how to enter the contest:

Enter the contest here!
http://www.thestream.tv/forum/viewtopic.php?t=4029
One Response to "Episode 21 Now Online!"
Crow Says:
December 15th, 2009 at 11:03 pm

Bahh, there would be no better way to celebrate Christmas Eve than with a special episode of Doc Mock. Fall asleep in front of your computer after watching the Doc…and wake up to presents! Hurrah!