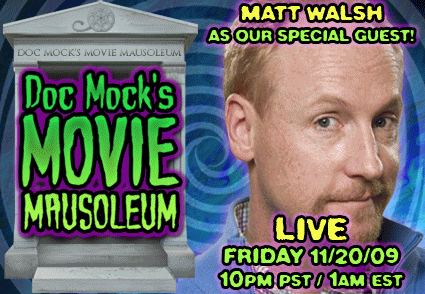 You can watch the show and join in the live chat room fun at any of the following URLs at 10pm PST / 1am EST:

http://www.thestream.tv/live.php
http://www.justin.tv/thestreamdottv
Matt Walsh. You've seen him as a part of the Upright Citizens Brigade. You've seen him on The Daily Show. You've seen him in films including "Old School" and "The Hangover". You'll soon see him on his new show "Players" too… but before you see him anywhere else, you're gonna see him LIVE on Doc Mock's Movie Mausoleum this Friday night, November 20th at 10pm PST as our special guest! Yep, he'll be watching a crazy movie with us and I couldn't be more excited about it. He's an extremely talented guy and I'm sure we're all going to have a blast this Friday night.

This also being our final episode before we go on a 1-week break for Thanksgiving, we have a few more surprises in store for you guys. If you have any questions you'd like to ask Matt, you should definitely catch the show live so you can send 'em in via the chat rooms. If you have plans, cancel 'em, because you don't wanna miss this episode! Hope to see all of you guys there this Friday night!

7 Responses to "Matt Walsh Appearing On Doc Mock This Friday, November 20th @10pm PST!"