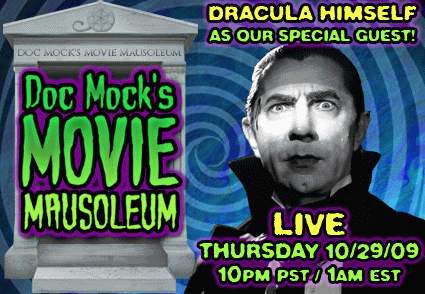 Hey guys, I'm just dropping in to give you all a quick reminder that the final Halloween special episode of Doc Mock's Movie Mausoleum airs LIVE tonight (THURSDAY 10/29/09) at 10pm PST / 1am EST, so be sure to catch it! Tonight our special guest is the one and only COUNT DRACULA, so you'll definitely want to see what horrors the Prince of Darkness himself has in store for you! You can watch the show and join in the live chat room fun at any of the following URLs at 10pm PST / 1am EST:

http://www.thestream.tv/live.php
http://www.justin.tv/thestreamdottv
http://www.stickam.com/thestreamdottv
Again, tonight is our final Halloween episode, so you'll definitely wanna check this one out LIVE! Hope to see you guys there in the chat rooms!

One Response to "Count Dracula Appearing LIVE On Doc Mock Tonight, Thursday @10pm PST!"
TravisRex Says:
October 29th, 2009 at 7:11 pm

I've never been able to watch the show live due to my job, but I quit that mofo and now I'm going to be able to participate! RAPTURE!