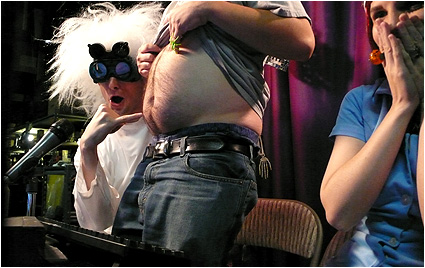 Hey guys, I'm just dropping in to give you all a quick reminder that the fourteenth episode of Doc Mock's Movie Mausoleum airs LIVE tonight (10/16/09) at 10pm PST / 1am EST, so be sure to catch it! This is another one of our Halloween episodes and we'll be showing horror / monster movies throughout the month of October. Plus, we went overboard with spooky Halloween decorations for the set as you'll see. You can watch the show and join in the live chat room fun at any of the following URLs at 10pm PST / 1am EST:

http://www.thestream.tv/live.php
http://www.justin.tv/thestreamdottv
http://www.stickam.com/thestreamdottv
Again, tonight is another of our Halloween episodes, so you'll definitely wanna check this one out LIVE! Hope to see you guys there in the chat rooms!

BTW, we're also going to be doing an all-night charity fundraiser on theStream after the show is over, so be sure to stick around for all the antics that will be taking place during that time!

4 Responses to "Another LIVE Halloween Doc Mock Episode Starts Tonight @10pm PST! Don't Miss It!"