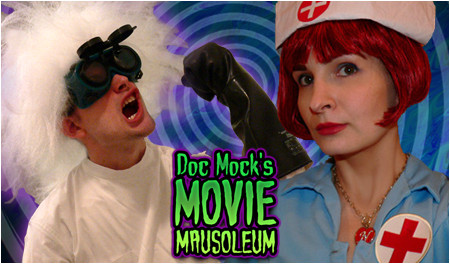 Hey guys, I'm just dropping in to give you all a quick reminder that the thirteenth episode of Doc Mock's Movie Mausoleum airs LIVE tonight (10/9/09) at 10pm PST / 1am EST, so be sure to catch it! This episode marks the beginning of our Halloween episodes where we'll be showing horror movies all month long and the set will be dressed for dread! We'll have a segment all about the Eyegore Awards at Universal's Halloween Horror Nights, the results of our Doc Mock circus carnival art contest and more! You can watch the show and join in the chat room fun at any of the following URLs at 10pm PST / 1am EST:

http://www.thestream.tv/live.php
http://www.justin.tv/thestreamdottv
http://www.stickam.com/thestreamdottv
Again, tonight is the start of our Halloween episodes, so you'll definitely wanna check this one out LIVE! Hope to see you guys there in the chat rooms!

One Response to "Halloween On Doc Mock's Movie Mausoleum Starts Tonight LIVE @10pm PST! Don't Miss It!"
Crow Says:
October 10th, 2009 at 12:08 am

New decor in the mausoleum eh? And the results from the art contest? Looks like this is shaping up to be one heck of a "Halloseen" episode! :D