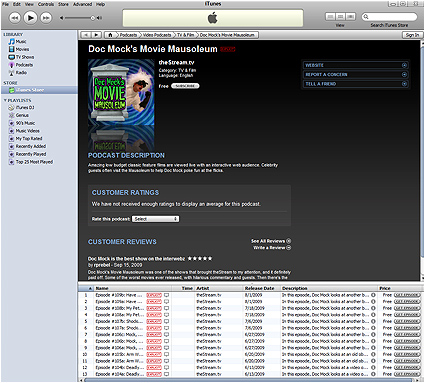 Great news everybody! Doc Mock's Movie Mausoleum is now available on iTunes! Yep, for all of you with an iTunes account, you can now login and download entire episodes of Doc Mock's Movie Mausoleum right here. And the best part is… they're FREE! There's no catch, we just wanted to provide you guys with another way to enjoy the archived episodes. You can even watch 'em right on your video iPods or iPhones if ya like! Here's the direct link to Doc Mock on iTunes:

itunes.apple.com/WebObjects/MZStore.woa/wa/viewPodcast?id=331281360

In other news, Doc Mock's Movie Mausoleum returns this week with an all new LIVE episode on Friday, September 18th at 10pm PST / 1am EST, so make sure to clear your schedules for some Friday night fun! Amanda Sitko, a hilarious improviser from the Upright Citizens Brigade, will be appearing as my guest as we watch a movie made to lambaste your lives! If you missed our last episode before the long network break, now's the perfect chance to get caught up on it before this Friday!

Doc Mock's Movie Mausoleum - Have Mercy: Part I
http://www.thestream.tv/watch.php?v=1651

Doc Mock's Movie Mausoleum - Have Mercy: Part II
http://www.thestream.tv/watch.php?v=1668

2 Responses to "Doc Mock Now Available On iTunes! Plus, An All New LIVE Show This Friday, September 18th!"
Crow Says:
September 16th, 2009 at 4:23 pm

The Doc finally got a lady guest…lookin' forward to this!

Just Ami Says:
September 16th, 2009 at 9:59 pm

I look forward to adding eps to my iPod now! Ooh, I even have some trips coming up… I know what I'm watching while I wait in the airport forever…